Strobe and Speed Light Photography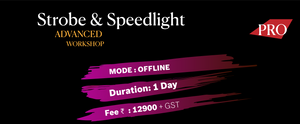 1 . Speed-light and Strobe light
What is a speed-light and why it is used. How to take advantages of the same.
2. Metering system with Speed-light and Strobe light
How does the metering system work with speed-light
3. Modes of Speed-light and Strobe light
Why are there many modes in speed-light
4. Working of different modes
How to work with different modes
5. Application Specific speed light modes
How to select a specific mode in different photo shooting scenario.
6. On Camera Flash and Off Camera Flash
How to do On Camera and Off Camera flashes
7. Stroboscope
Working of speed-light as stroboscope creative
8. Sync
How to do sync with speed-light and strobe light
9. High Speed Sync
How to achieve High speed sync with speed-light
10. Curtain Sync
Understanding practically the curtain sync, using it creatively.
11. TTL and ETTL
What is TTL and ETTL.How to work with this.
12. Powering Methods
Different powering method for speed-light and strobe lights
13. Dragging Shutter
Techniques to do shutter drag
14. Right Battery Selections
Which are the right batteries to be used.
15. Radio Triggering and Optical Triggering
How to do radio triggering and how to do optical triggering
16. Studio Strobe Lights and Working
Which are strobe lights. How to work with it.
17. Modifiers and Gears
Lighting modifiers, accessories, grips.
18. Hard and Soft light
How to make hard and soft light. What are the application of these
19. Questions and Discussions
Live interactive sessions to answer all your queries and questions.